CNN
–

After an ordinary workday at a Walmart in Chesapeake, Virginia, survivors and investigators are trying to determine the motivation of an employee who opened fire on co-workers, killing six, before fatally turning the gun on himself. questioned.
Employees were preparing for a night shift Tuesday when a manager opened fire in the break room just after 10 p.m., officials said.
Authorities identified the dead as 70-year-old Randy Blevins, 43-year-old Lorenzo Gamble, 22-year-old Tyneka Johnson, 38-year-old Brian Pendleton, 52-year-old Kelly Pyle and a 16-year-old boy, whose name is being withheld because he is a minor.
A spokeswoman for Sentara Norfolk General Hospital said two people injured in the shooting were hospitalized in critical condition on Thanksgiving Day, and one injured victim was released Wednesday.
"I know this community and I know it well. And I know we will come together and extend a helping hand to the families of the victims," ​​Chesapeake Mayor Rick West said in a video message Wednesday.
The shooting, yet another example of how horrific gun violence is changing American life in the most mainstream settings, left many grieving the loss of loved ones and survivors traumatized by what they witnessed. As the long journey of processing these emotions begins, questions remain about what could have led to the murder.
Doña Priolo was inside the employee break room when the shooter opened fire on co-workers, she said.
"We don't know what made him do it," Priolo said. "None of us understand why this happened."
The man, Andre Bing, worked as a "team leader" overnight. The 31-year-old had worked at Walmart since 2010, the company said. He was carrying a semi-automatic handgun and several magazines, authorities said.
Bing Priolo's three friends "before I go for a run. Half of us didn't believe it was real until some of us saw all the blood on the floor.
Chesapeake City officials said two victims were killed and the shooter in the break room, another victim outside the store and three others died at the hospital. Officials were still trying to determine the exact number of injured, as some people may have taken themselves to hospitals.
The mayor plans to hold a vigil in City Park on Monday evening. according to a tweet from the city.
"Today we are only concerned with those affected by Tuesday's tragic incident, but the police investigation is ongoing and we expect to have more information tomorrow," officials tweeted Thursday.
The motive for Thursday's shooting is unknown, Chesapeake Police Chief Mark Solesky said.
This week's violence was at least the third mass shooting in Virginia this month, according to the Gun Violence Archive, and comes amid grief that many Americans across the country are enduring this Thanksgiving because of loved ones lost or injured in shootings.
Just 170 miles west of the Chesapeake, a 22-year-old University of Virginia student in Charlottesville opened fire on students on Nov. 13, killing three of them on a bus returning to campus from a field trip to Washington.
Over the weekend, a 22-year-old man shot five people and injured 19 others at an LGBTQ nightclub in Colorado Springs, Colorado, authorities said. And six months ago Thursday, a gunman killed 19 students and two teachers in Uvalde, Texas, a tragedy that victims are still searching for answers to.
"How do you celebrate when you're broke? How can you give thanks when you have nothing to give? How do you fake it and smile when you wake up crying," Brett Cross wrote Thursday about his cousin, Uzia Garcia, who was killed in Uvalde.
In total, there have been more than 600 mass shootings in the U.S. this year, according to the Gun Violence Archive. Both the nonprofit and CNN define a mass shooting as one in which four or more people are killed, excluding the attacker.
Speaking of epidemics, Arizona former U.S. Rep. Gabby Giffords, who was seriously injured in a 2011 mass shooting; tweeted A Thanksgiving Eve for Reform: "We can't be a nation of gun violence and mass shootings. We can't live like this. We have to act."
In Chesapeake, the nightmare began less than an hour before store closing after a busy day of holiday shopping.
Jesse Wilczewski, who was recently hired, told CNN he was in a break room during a regularly scheduled meeting when he saw the gunman in the doorway pointing a gun.
At first he didn't think what he was seeing was real, but then he felt his chest pounding and his ears ringing as a flood of gunshots rang out. At first, it "didn't register as real," he said, until a gunshot rang out in his chest.
Wilchevsky hid under the table while the shooters were passing through the adjacent corridor. He said he could see some of his colleagues lying on the floor or on chairs – all quiet and some possibly dead. She stayed because she didn't want to leave them alone.
"I could have walked out that door … and I stayed. I stayed so they wouldn't be alone in their last moments," Wilczewski said in a message to the families of the two victims.
When the shooter returned to the break room, Wilczewski said, she told him to get out from under the table and go home.
"I had to touch the bloody door," he said. "I just remember grabbing my bag and thinking, 'If he's going to shoot me in the back – well, he's going to have to try really hard because I'm running,' and I ordered it. … and I did it until When I got to my car, I didn't stop and then I drank water."
Briana Tyler, also a newly hired employee, had just started her shift when the shooting started.
"All of a sudden you just hear pa pa pa pa pa pa pa," Tyler told CNN, adding that he saw the bullets fly inches from his face. "It wasn't a break in between that you could really try to process."
The shooter had a "blank look on his face" as he looked around the room, shooting people, Tyler said.
"There were people just falling to the floor," he said. "Everybody was screaming, gasping, and yeah, he walked away after that and just continued throughout the store and continued to shoot."
Other officers said the shooter had shown disturbing behavior in the past.
Shandraya Reese, who worked with the shooter from 2015 to 2018, described him as just a man.
"He always said that the government controls him. He didn't like social media and kept black tape on his camera phone. Everyone always thought there was something wrong with him," Reese said.
Joshua Johnson, a former maintenance worker at the store, said the shooter made dire threats that he would ever lose his job.
"He said if he ever got fired, he would get revenge and people would remember who he was," Johnson said.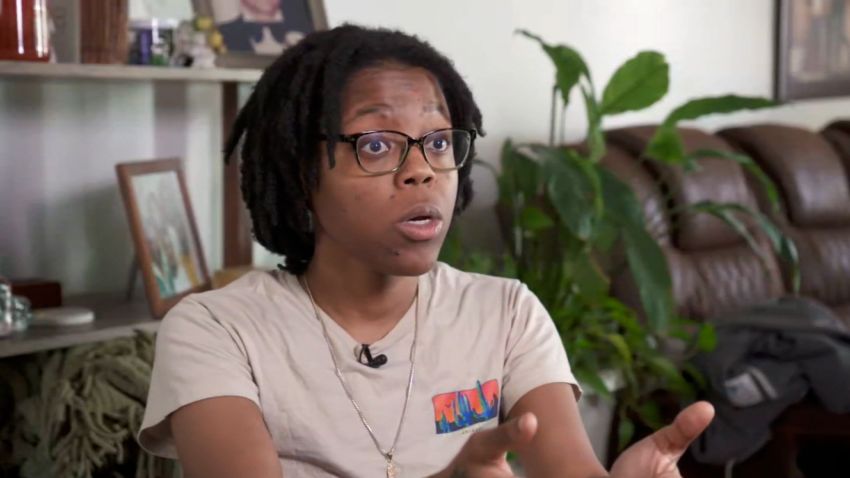 Hear a Walmart employee who witnessed the shooting describe the manager's reputation
Neither Johnson nor Reese reported any concerns about Bing to management, they said.
In a statement, Walmart said it was working with local law enforcement on the investigation.
"We feel such tragedies personally and deeply. But it's especially painful because we learned the gunman was a Walmart associate," Walmart USA President and CEO John Furner said in a statement. "The entire Walmart family is heartbroken. Our hearts and prayers are with those affected."