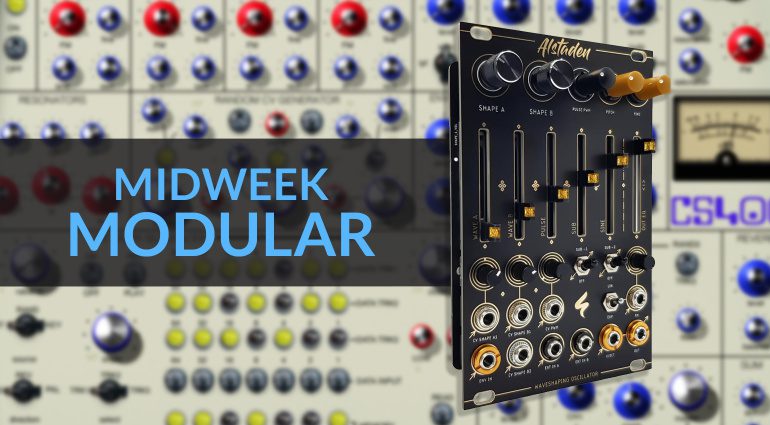 Modular center 35 weeks ·

Source: Gearnews
We got some West Coast flavor with ALSTADEN and Computynth400, some 8 Step and Quad VCA with stereo mixer pretensions. Let's get into it.
The news of the week is that there is a new update on the Tools used to change Plaits which adds 8 new link types. This includes 2 tones, 6 active FM modes compatible with DX7 patches. Read more about it here.
Nano modules released SERRA, an interesting ADSR envelope that has a lot of flexibility and customization options. Read more about it here.
And DF Audio releases a new desktop patchbay called patchworks, which can be a nice way of limiting Eurorack and pedals. Read more about it here.
Modular midweek
Here are some other modular pieces that caught my eye this month.
Journalalogue Step 8
I think we first saw this module at Superbooth 2021, but now it's finally here. Step 8 is a Follow-Up/Example Checklist which sounds like a posh way to explain the eight-step process, but it's much more than that. Each step can check the incoming voltage in track & hold or sample & hold mode. So you can capture a process and extract it, and then re-create it, or change it by moving the slider. You can use it to shape waves.
All systems have a CV output and gate, so you can use it as a switch or for polyphonic sounds. You also get inputs for transport control, scrolling, resetting and talking individually.
Step 8 is an interesting module that I didn't explain very well, which is a common occurrence in the Joranalogue level of modularity. It's very clever and modular that I've been trying to figure out for a while.
MEGA-TANG working circuit
MEGA-TANG is a 4 channel VCA and stereo mixer. It is very beautiful and clearly laid out in a food-channel style. Input on top, CV controls level, send, panning, level knob and mute switch. These products are located in the side, which is the only part that does not fit in the correct configuration.
Like a 4 channel stereo mixer, you have one auxiliary send with a stereo return. Panning is there, I appreciate the blue mute button. You've got a bit of leveling up and left & right mix output.
It is good, simple, useful and easy, will mix both CV and audio and has an expansion station for future expansion.
ST Modular ALSTADEN
Exclusively from ST Modular is the ALSTADEN analogue waveshaping oscillator which can also shape other components with its own logic as a small VCA. It follows the vibe of the second oscillator from ST Modular's fabulous Euphoria synthesizer. There is a combination of diode clipping, mirroring and folding that produces high harmonics and timbral changes. You also find a little EQ there with one slide to boost both bass and high frequencies.
There are five different types of waves. The first two are folded and adjustable, followed by a pulse width modular, a 1 or 2 octave low sub-oscillator and a small sine wave. There is only one output, which mixes content with sliders. You will find a lot of changes in the model, PWM and FM to give it a lot of movement.
It's the kind of oscillator you can lose every day.
Giorgio Sancristoforo COMPUSYNTH400
To finish it off with a bit of software, we have the West-Coast programmable modular synthesizer from the mind of Giorgio Sancristoforo. It combines Buchla's ideas with a miniature 1974 Altair 8800 microcomputer that was the first computer you could build yourself. If that sounds like an awesome option, you'd be fine.
Clearly, the CS400 has everything Giorgio loves about west coast modules rolled into one interface. It can rely on enough computing power to create a variety of sounds in a wonderful way. A 128-step 7-bit microcomputer-inspired system with data tracks, and dynamic input algorithms for an immersive experience. Top it all off with tape loops and a massive modulation matrix and you've got a dreamy vintage synth that will keep you entertained forever.
It's only available as a standalone synth for macOS right now, but a Windows version should be available in the New Year.
Compusynth 400 website.
Others from Giorgio Sancristoforo.